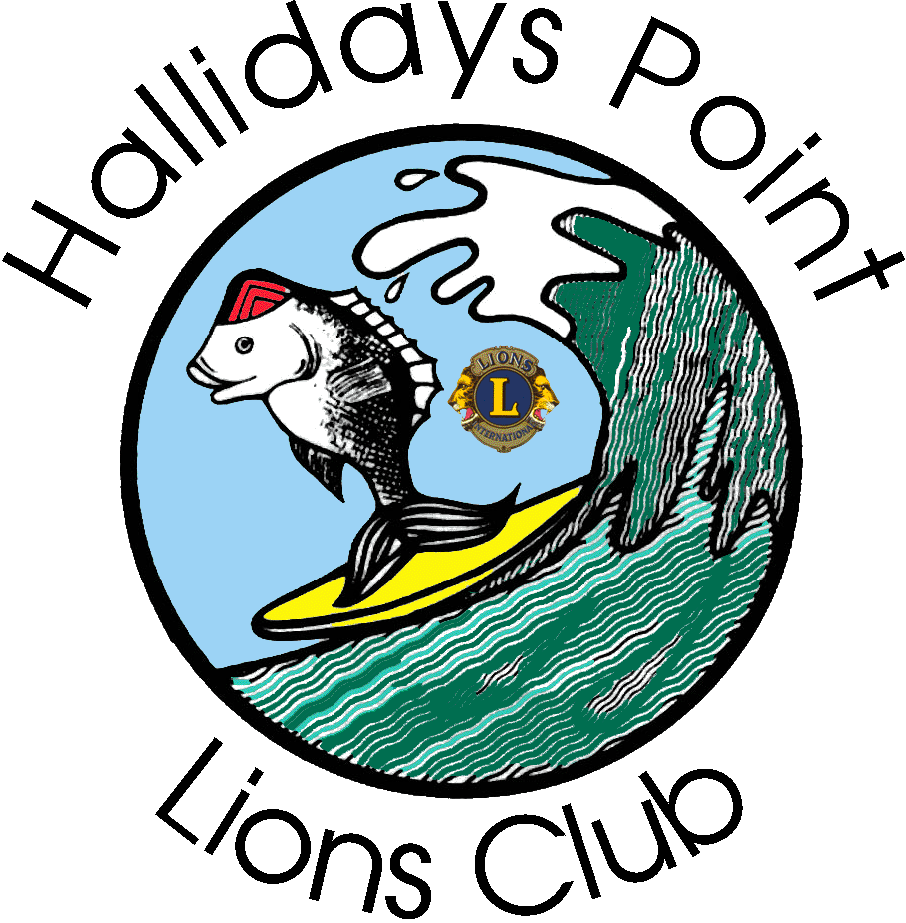 CONGRATULATIONS!
AN OAM FOR LUCIA BOKULIC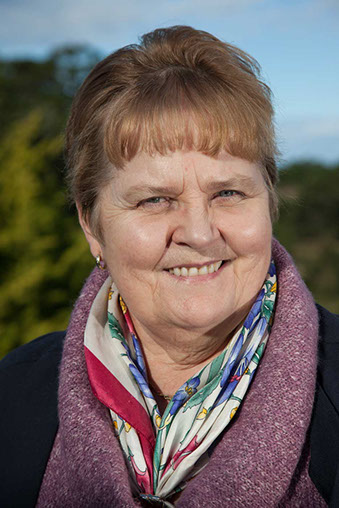 Lucia Bokulic arrived in Australia on 30th December 1962. After a brief stop in Sydney it was on to Bonegilla on the border between Albury & Wodonga. The temperature when she left Vienna was -26 degrees and when she arrived in Sydney 32 degrees – a huge shock. Lucia's childhood in Austria was spent in a circus in which both her Mother and Father performed. She says moving around the country as a child taught her lots more about people and opportunities than a usual stay-at-one-school childhood ever could. Married at age seventeen, she arrived in Australia aged nineteen with a husband and an eighteen month old son. After a month at Bonegilla Lucia and her husband settled in Wollongong. Things didn't work out and they divorced after five years. After remarrying Lucia moved to Sydney. In 1985 she moved to Hallidays Point. After a long illness her husband passed away in 1995 and Lucia now has no family in Australia as her son migrated to New Zealand in 2011 but her life is so full and certainly never boring, so she has no time to dwell on this.
Lucia has enjoyed being involved in many organisations and projects in the Manning Valley community, including the Flair Fashion Awards, Tidy Towns, Hallidays Point Library and for fifteen years the Manning Valley Neighbourhood Services, being Chairperson for six years. She also formed a Global Friendship Group in Taree which lasted about eight years. At present Lucia presents a German program on 2Bob Radio.
Currently Vice President of the Manning Valley U3A, she was the Founding President when it was established in 1999. In 2009 she became President of the Senior Citizens Association at Ormsby House, a position she still holds today, and where she runs computer classes twice a week. Also Lucia is on the Social Development of Greater Taree City Council and is very involved in the Multi-Cultural Network and the Multi-Cultural Access Committee of Manning Rural Referral Hospital. She is also on the Board of Directors of Taree Community College. Presently Lucia is organising a poetry competition called "The Manning in Rhyme". Entry forms will soon be available in all Libraries. The Greater Taree City Council Library Staff are supporting this project.
In June of this year Lucia received an Order of Australia Medal for her services to the Manning community. To Lucia this meant a great deal – acceptance as member of this local community. Coming from a non-English speaking country Lucia sees this as a great achievement. In 2007 Lucia shared the Greater Taree City Council Citizenship award for community services with Alana Parkins who received an award for services to the environment.
This year is Lucia's 50th Anniversary of her arrival in Australia and looking back at her life she is glad she chose Australia as her home. She still has an accent but doesn't mind as she feels this makes her an individual and she considers herself a Dinkum Aussie who has had a fair go!! And I am sure Manning Valley is all the richer for her presence – WOW – as a community volunteer she excels. Multi-Cultural relations at their best!!
Story by Anne Visser, Photo by John Stranack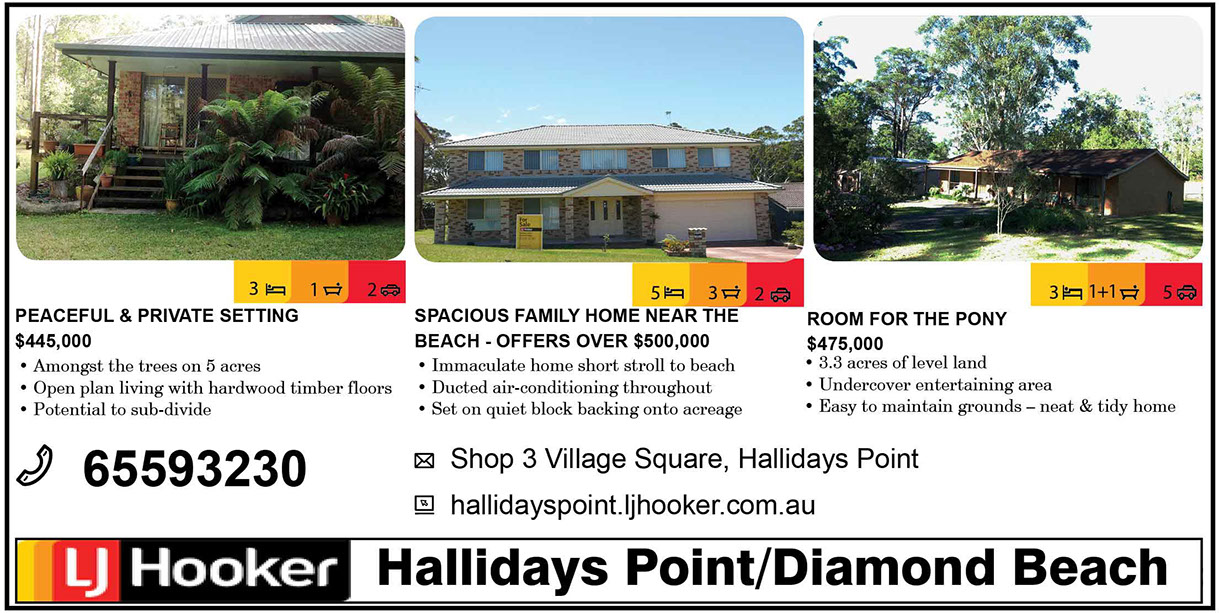 John and Sally Ritchie of Black Head are celebrating 60 years of marriage.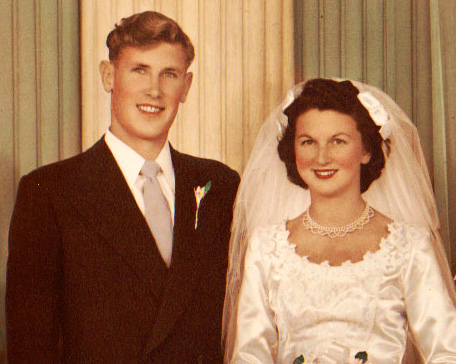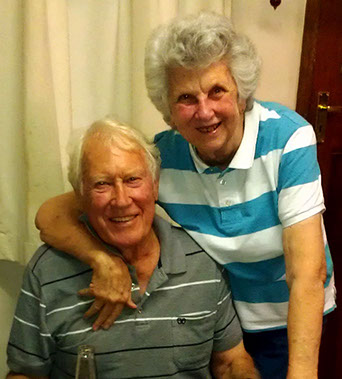 John Ritchie and Sally Mecham were married at "Our Lady of the Rosary" Church in Taree on the 30th May, 1953. Both John and Sally were from local families, they were joined on the day by over 90 friends and relatives. Their attendants on their big day were Maureen Cavanagh, Jill Ritchie, Harold Ritchie and Clive Woolcott.
Sally and John honeymooned on the North Coast of NSW. They soon moved to Lismore, where John worked in the Norco Dairy Factory. Three of their four children were born there. Later, they returned and settled in Taree for the next 40years.
John worked, as Engineer, at the Manning Base Hospital for those years. He was an active member of the community through a variety of Service Clubs, Sporting organisations and activities. Sally was a busy mother of 4 and an active charity worker. She returned to the workforce in 1973, to be a senior book keeper at an accountancy firm, Wilde, Percival & McPherson, for whom Sally worked before her marriage.
Together, Sally and John have travelled Australia - around it and traversing it, enjoying meeting up with relatives and old friends and making new friends along the way. They have travelled overseas on a number of occasions – enjoying the friendship and challenges associated with travel in foreign lands.
Almost twenty years ago, they retired from the workforce and moved to Black Head where they had holidayed with their family for many years and had an established network of friends. They now enjoy the quieter life, with more time for fishing, friends and family.
John is a life member of the Blackhead surf club and has been an active member of Dad's Army – cleaning the sea pool regularly. Sally has attended the Wednesday craft group for many years and still does.
John and Sally are very much loved by their family. They are fortunate to enjoy the closeness of their 7 grandchildren and 5 great grandchildren, who adore and respect them.
HAPPY ANNIVERSARY!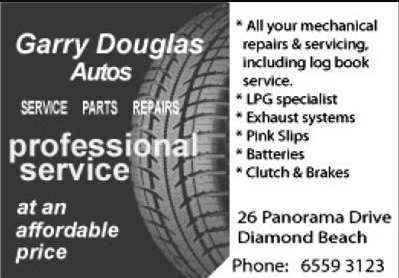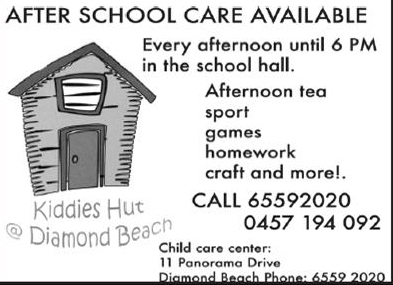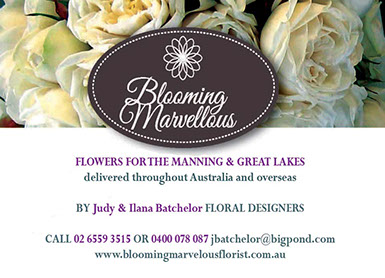 Local lad,
Kade Denton from Diamond Beach, (son of Dianne and Chris Denton)
has just been elected as a Director of the University of Sydney Union Board. This is a prestigious one year term role and will see Kade actively participating in formulating the direction and management of the multi million dollar company. Kade - who will be inducted and commence his Board duties in early July - was comfortably elected to the role, after an intense but enjoyable campaign period in May.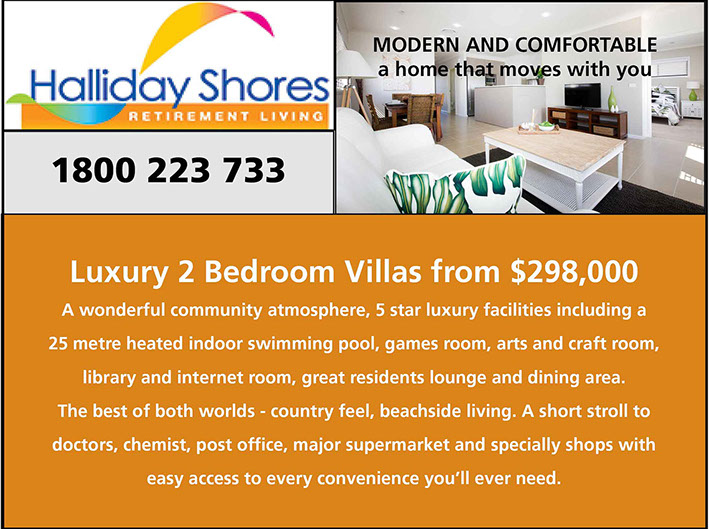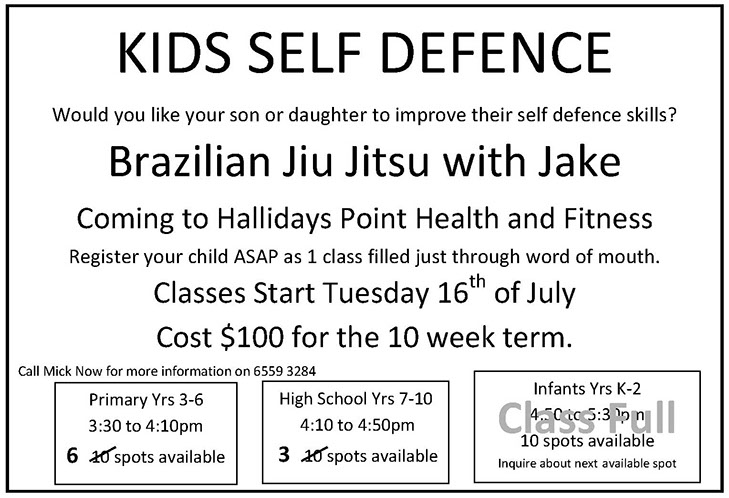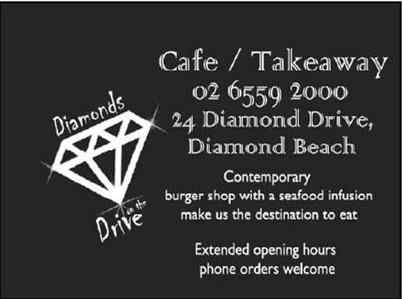 News of Our World
Hallidays Point
is published by Manning Great Lakes RDA
as a service to our community.
Please send advertising and contributions to hpnews@westnet.com.au
BEFORE the 15th of the previous month
Editor and Advertising John Finnie - with help from a lot of other people. Thanks.
Delivered by 10 very healthy people.
Contributions very much appreciated.
Thanks Everyone!!
The opinions of contributors do not necessarily reflect those of Manning Great Lakes RDA or the editor. The decision to include or exclude contributions is final. (and probably because of lack of space). If you do not receive a copy of the newsletter each month, spare copies are left in the Library, at Cellarbrations at Diamond Beach, LJHooker Real Estate, Andrews Gardner RE, Diamond Beach Vet, and at Foodworks. People affected live on Blackhead Road, Old Soldiers Road , a small sections of Diamond Beach Road and Belgraiv Close and if you don'thave letter box. If you would like to deliver to these areas, please let us know.
hpnews@westnet.com.au
6559 2120
From Alana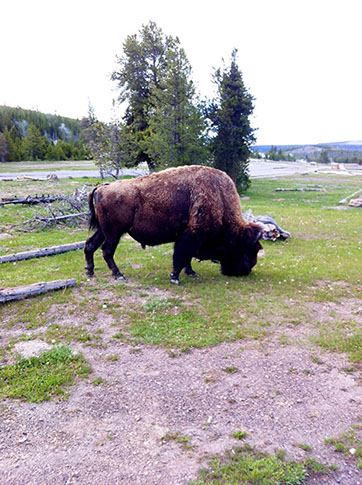 Hi y'all, here we are in America alone in a small forest campground outside Townsend Montana. It is full of pines and aspen and has cross country ski signs everywhere, so I imagine it would be very pretty in winter. We are in bear country. The basic rules to avoid death by bear attack: keep all food inside the van, don't wander around quietly or alone, and lock your doors. I can't really see a bear opening a door but I do it anyway. If you are confronted by a bear back away, don't turn and run and stay calm. Right!
​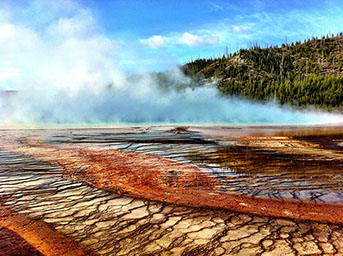 We have been touring Nationals Parks for 30+ days and have been to 10 parks so far, all really beautiful and in stark contrast to each other. We just left Yellowstone and Grand Tetons NPs after a week of seeing snow capped mountains, raging snow fuelled rivers, glacial lakes, canyons, geysers, waterfalls and cascades (much gentler) and lots of wildlife especially, moose, bison and elk and all their new babies.
We saw a mother brown bear with two cubs in Rocky Mountains NP but we don't expect to see anymore because we follow the rules. People are a bit silly when it comes to wildlife. They seem to think park animals are tame. They do tend to ignore you most of the time but many people are gored by huge angry bison and elk each year. RV'ing is a great way to see America and Americans are great hosts. Our next park is Glacier NP on the border with Canada; we just can't get enough of the snow covered mountains.
If you are interested our travel blog is backintheussa.tumblr.com http://backintheussa.tumblr.com
And yes all Americans say it; you have a great day now.
Alana
A TRIBUTE TO MAUREEN TURNER - RIDING FOR THE DISABLED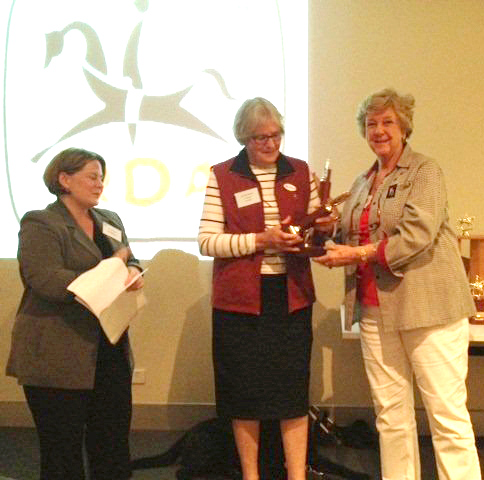 Maureen's commitment to RDA started in in 1974 when she joined forces with another lady to get RDA going in Wagga. Maureen had been a Pony Club coach for many years and in her initial years with RDA the 2 were very much 1. In 1975 the first lessons in Wagga commenced and Maureen was the coach. Maureen lived over 50lms from Wagga, coached at Pony Club, helped her husband run a farm and looked after her 2 young girls yet she was at RDA twice a week and more if she was needed.
During her early years as an RDA coach she led week long camps for learners (RDA and Pony Club) at her farm finishing with a ride in the hills at the end of it as a reward for hard work. Maureen transported all the horses up and back in her own truck
Maureen also led camps inclusive of RDA and Pony Club riders in the Snowy mountains, again transporting all the horses (and in most cases riders also) there and back. One of these was a 250km trek of 20 people and 21 horses through the Snowy Mountains to assist a young RDA rider to attain his Gold Duke of Edinburgh Award – he did.
When Snowy (RDA horse) broke his leg Maureen packed him in the float with hay bales so she could get him home to her place where she packed him in the loose box (again with hay bales) to support his recovery. Snowy's recovery was slow. As his leg became stronger she would remove a few more hay bales so he could put a little weight on his leg. This continued until many months later she took him back to RDA fit and healthy and to the delight of the riders, particularly Linda Reynolds.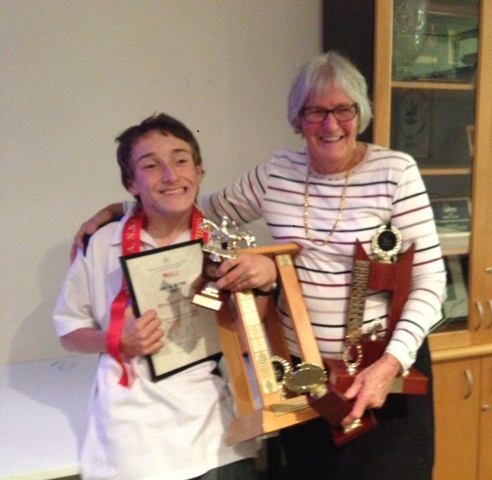 One of Maureen's regular riders moved away from Wagga to QLD as the supports for people with CP were better there. This move saw a decline in Venetta's health as she had to leave RDA and the horses that she loved so much behind. Maureen thought if Venetta had a horse she could call her own it might lift her spirits so she bred a horse for her. Dancer was born (ironically he also had a minor disability), was broken in and Venetta rode him once before she died.
Maureen has always provided opportunities for her riders to compete in competitions. She regularly took RDA riders and horses to gymkhanas. As her daughters rode at the competitions as well she had a process on how to get them all there. She took her daughters and their horses and dropped them off at the grounds first, then went back for the RDA horses and riders. All this was done in reverse at the end of the day. Maureen also took RDA riders and horses to pony Club. Again her daughters and their horses first, then the RDA riders and horses. At the end of the day her daughters started riding home, she took the RDA riders and horses home then picked up her daughters and their horses somewhere along the road.
Maureen has been State and National President. She was the first National President for Driving and was charged with getting Driving up and running. Maureen has also been a member of the CASP and other State and National committees. She was one of the first National Assessors and completed assessments across Australia including NT, WA, Vic and NSW – she is still an active State Assessor. She was the President of Wagga group for many years and was the driving force behind them putting a roof over their arena……….. is this starting to sound familiar? Yep, she has done it all again here.
Over the years Maureen has loaned 6 of her horses to RDA riders for competitions at local, State and National level including the 2000 Paralympics, 5 of these horses ended up staying at RDA permanently as they suited the program so well (which meant she needed to find another horse for herself).
When Maureen and her husband Barry retired to the coast she said her RDA work would reduce and she would only Assess in the future. Obviously this changed as we now see her coaching a minimum of 2 days per week, standing in for other coaches when they are unable to be there, and running additional lessons to support riders who are training for competitions. Maureen is the person who transports the horses when needed and quite often riders and volunteers also. If a horse is sick and requires the vet she is the person who stays with the horse, sometimes into the night to ensure they are OK. She pays for the hay so we can get a cash discount (usually $1,500 at a time),. She has been President and is still an active member of the committee and the Coaches committee.
This year alone Maureen has transported horses, riders family members and volunteers to Kempsey and Melbourne so they can participate in competitions.
It is not often you find a person with a level of commitment that matches that of Maureen's. She is an asset to our centre and to the movement of RDA.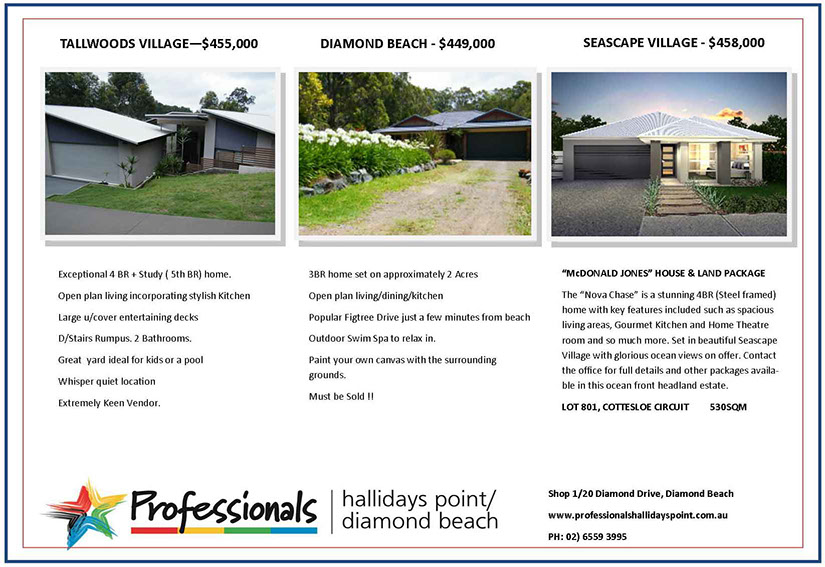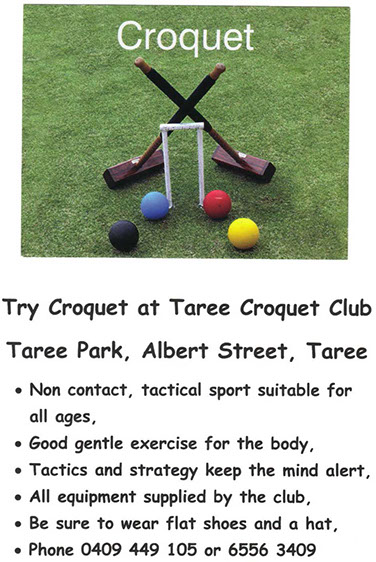 Diamond Beach Rural Fire Brigade.
This past month has been quiet. We did give assistance on the Pacific Highway, one kilometer south of the southern Taree exit, where there was a three car accident one Friday morning while we were on our way to have our radio's re-programmed. The following day we responded to a call near the northern Taree exit on the highway, but weren't needed. There was a small grass/bush fire on Panorama Drive near the round-about one Saturday afternoon. Possibly deliberately lit. We also assisted NSW National Parks and Wildlife with a Hazard Reduction along Possum Brush Road.
Tracing the Footsteps of Arsonists. The NSW RFS is the lead agency in providing a new system to help combat arson. The Arson Trend Analysis System (ATAS) allows Fire Investigators to rapidly select, collate, assess and export information on fire incidents in NSW soon after they have occurred.
This is the first time data about fire incidents is being shared between NSW RFS, FRNSW, NSW Police Force and National Parks and Wildlife Service.
Using trend analysis similar to ATAS, Fire Investigators in NSW observed a series of fire ignitions off the same road occurring at regular time periods – either between 6 – 7am or 5-6pm. They also noticed that every third Wednesday there were never any reported incidents. It turned out the offender worked locally and the road was his route to and from work. On further investigation it was found the person of interest also had every third Wednesday off work.
Investigations resulted in apprehension and conviction.
Smoke Alarms. Photoelectric alarms appear to provide a faster warning than ionisation alarms in most circumstances, and there is little appreciable difference in performance during flaming fires.
To maximize the opportunity for early warning in all fire scenarios, Fire and Rescue NSW recommends the installation of photoelectric alarms, hard wired and interconnected, in all residential accommodation. If only installing one alarm, it should be a photoelectric alarm. (Both types are capable of meeting Australian Standard AS3786)
A Bush Fire Survival Plan may save your life.
For more information contact Taree Fire Control Centre 6591 2900 or NSW RFS Information Line 1800 679 737 or www.rfs.nsw.gov.au
The photo shows Peter Wynd from Rainbow Flat Brigade and John Baker from Diamond Beach Brigade assisting NSW National Parks and Wildlife at a Hazard Reduction burn near Possum Brush Road.
Ingrid & Stuart Horsburgh have reached a Landmark in their recently commenced travels!
This is Stu standing near the Bogan River. Yes. This is where he harks from - where he calls home. This river crossing is on the farm where he grew up.
He is an original "Bogan".
Ingrid.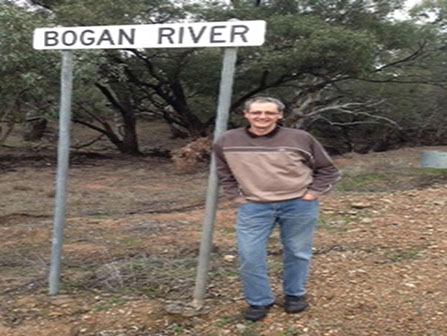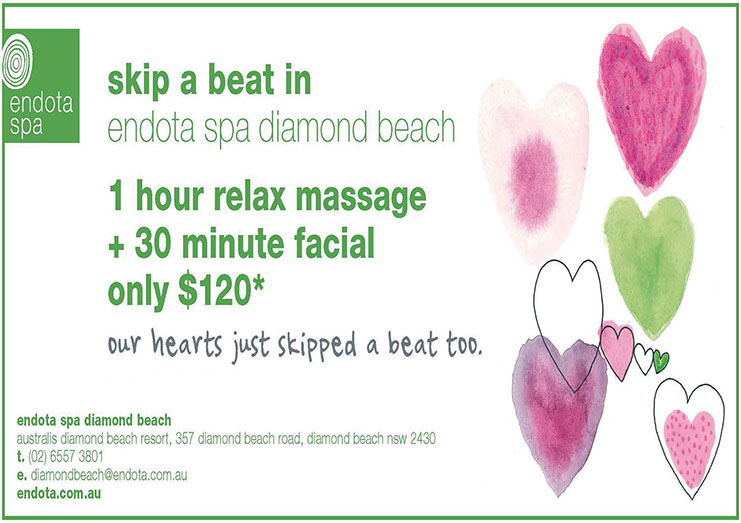 Hallidays Point Lions Club celebrated the successful twelve months of their 2012-2013 year at the annual changeover held at the Black Head SLSC on Thursday 13th June.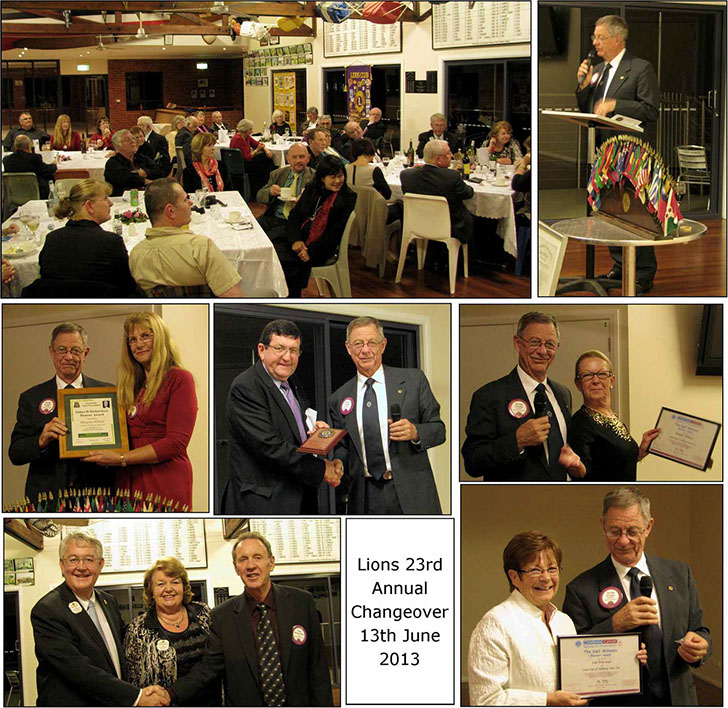 Apart from Club Members and their partners, the function was attended by representatives from the Manning Riding for the Disabled Association, Diamond Beach/Red Head Rural Fire Brigade, Rainbow Flat Rural Fire Brigade, Old Bar Lions Club, Forster/Tuncurry Lions Club, Australian Lions Onoz, Deputy Mayor Alan Tickle, Lions Australia Past Council Chairman Bob Buckley and his partner Cheryl.
Outgoing President Peter Clarke reported on the activities of the Club over the past twelve months which were many and varied but included successful fundraisers such as the Lions Community Christmas Fair, Australia Day Breakfast, "Biggest Morning Tea", "Shave for a Cure", Trivia Night, "Lions Biggest BBQ". Other ongoing fundraisers included the "100 Club" annual raffle and the Great Grocery Grab raffle. The monthly Car Boot Sale which is held in the car park of the Hallidays Point Tavern gets more and more popular and members spent much time making improvements to and maintaining the Lions Park. There was also a good sprinkling of social activities like the annual camping weekend and the Spark Club Rally. Donations made to local and National Causes totalled $22,000. Membership of the Club increased again during the year and now stands at twenty five.
President Peter honoured some well deserving Members with the following awards:
Lion Margaret Willard – James D Richardson Award
Lion John Griffiths – Bill Hessian Award
Lion Margaret Waldock – Neil Williams Honour Award
Lion Rita Gaul – Neil Williams Honour Award
The 2013 – 2014 Club Officers were inducted by Past Council Chairman Bob Buckley as follows:
President: Ray Piper, Secretary: Gerard Cross,
Treasurer: Rita Gaul,
Vice Presidents: Vaughn Parker, Rainee & Brent Crowhurst,
Directors: Margaret Waldock, Val Smoker, Margaret Willard,
John Griffiths, Alan Tickle and Jack McDonald,
Public Officer & Bulletin Editor: John Finnie,
Safety Officer & Tail Twister: David Gibson,
Lion Tamer: Alan Filmer,
Membership Chairman: Peter Clarke.
Incoming President Ray Piper addressed the gathering and outlined his plans and goals for the next twelve months. His main aim is to communicate with other local non profit community groups and invite them to present their needs and encourage their support. Ray also intends to communicate with local businesses with a view to broadly explain our function in the community and develop a relationship of support for Lions and the community.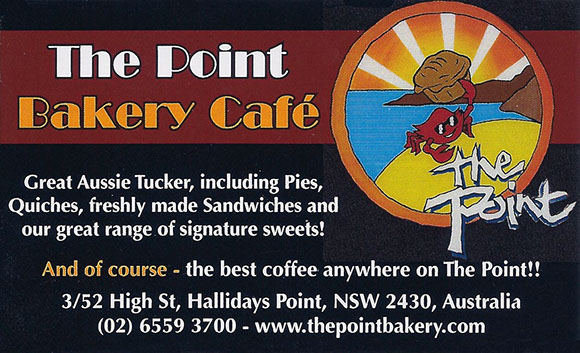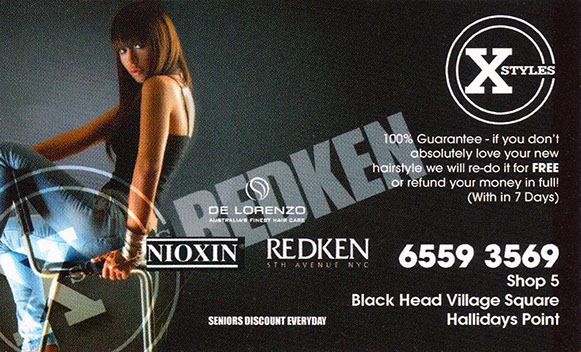 ANNIE ROSE DANCERS
EISTEDDFOD SUCCESS
​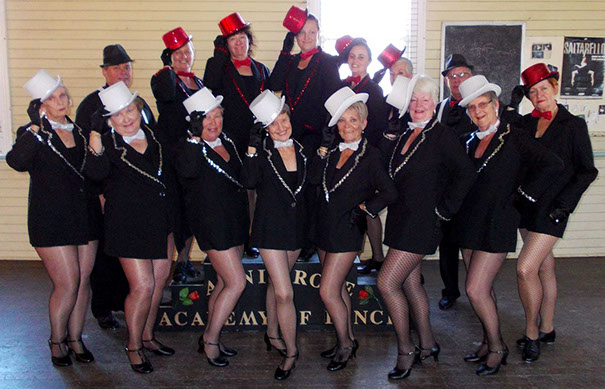 May is a good time for Eisteddfods – well for we older competitors anyway. The weather is cooler so we don't overheat and it is not cold enough for the old bones to have ceased up too much!! So, once again the performance group from our local Annie Rose Academy of Dance entered the world of lights, tights and greasepaint to compete in the Adult Group Dance sections of the Taree Eisteddfod. We won both our sections for Open Group Over 25years and Open Adult Group Over 40 years.
In the Over 25 years we combined with the younger dancers from Kate's Tappers of Taree in a cabaret style routine with lots of movement, rhythm and storytelling (see attached photo). Kate's Tappers did a wonderful job, many being 'first time' performers with lots of nerves. Their energetic tapping was exciting and they complemented our routine beautifully. For the Over 40 years the Annie Rose girls danced as "Sex Bombs" to the old Tom Jones tune and brought the house down!! Oscar winning performances from Jenny Osborn; Val Smoker and John Coster, our "principal hams", brought the house down. The adjudicator said she was 'crying from laughing". And that's what it's all about – entertainment!! We have fun, keep our bodies and minds active, enjoy great music and are not afraid to 'ham it up' in a stylish way.
We have had many new members join our dance/exercise classes held at Blackhead Surf Club on Mondays commencing at 9am. The classes suit all ages – you just do what you can manage and if you wish to learn simple dance steps and routines there are additional classes for that. If you want to tap, then Kate's Tappers dance on Saturday mornings in Taree, with classes for beginners and all levels of experience. We are already rehearsing for our Annual Charity Concert on 17th November at the Tuncurry Bowling Club. So mark the date in your calendars and we will tell you more about it later – best value for your dollar around!!!
Hallidays Point Garden Club
The May meeting was held at the home of Carmel and Michael Bartlett. This was rather a joyous occasion as the Garden Club was able to hand over a cheque for $11,420.00 to the Manning Great Lakes Branch of Riding For The Disabled. This amount was raised over the weekend of May 1st and 2nd when nine gardens were open to the public at a cost of $10 per head. This amount will enable Riding For The Disabled to lay down their new floor in the under-cover arena.
The guest speaker at May's meeting was Bruce Cluff from Upper Lansdowne. Bruce is an expert on the raising and care of Bromeliads and he gave a most informative and enjoyable talk and demonstration on dividing and potting these plants he most obviously adores. He brought along an amazing variety of Broms for sale and they were most eagerly snapped up by the members and visitors present.
Carmel Bartlett
Bombora Koala Corridor
​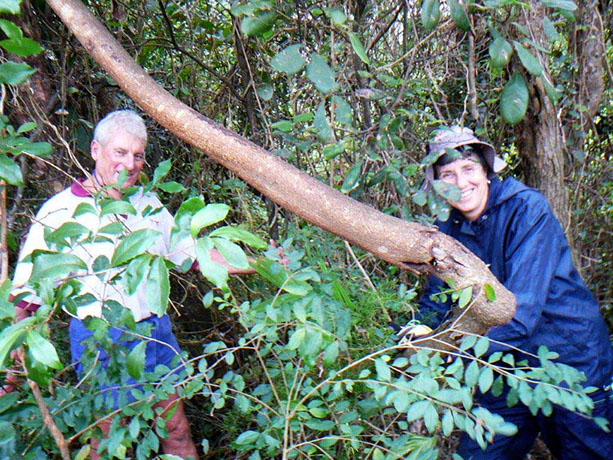 Photo: Redhead Road residents Trevor Bennett and Ann Ryall working in the corridor.
In the coming months you may see a small but enthusiastic group of volunteers working in the Bombora koala corridor to the north of Redhead Road.
Regeneration work was supposed to have been undertaken by the Bombora Point developer on this important piece of the local environmental jigsaw, but was not completed when the subdivision went into receivership.
Hallidays Point Landcare Group has been given permission by Council to control some damaging environmental weeds, and later to do some planting in the corridor in accordance with the management plan for the area. Any planting will be at least 25 metres from the southern boundary fence, so it should not impact adversely on residents, for example by shading from winter sun or by compromising the asset protection zone which has been included in the corridor to reduce bushfire risk to properties. Rather the work should enhance the aesthetic value of the corridor as well, of course, increase its value to native fauna, as originally intended.
More volunteers are always welcome to join in on Mondays from 8.30am to 11am. If you would like to help, or if you have any questions about the management plan for the area and Landcare's involvement, contact Alan Pursch on 6559 3365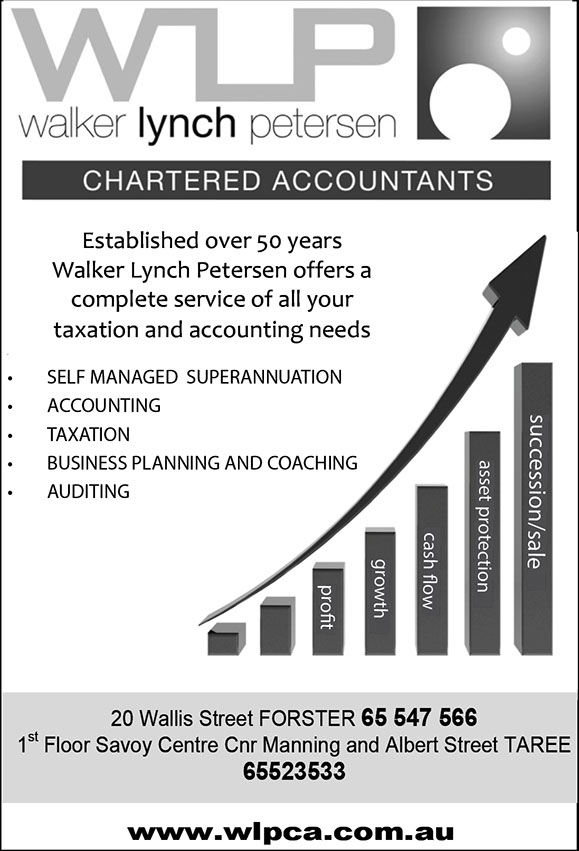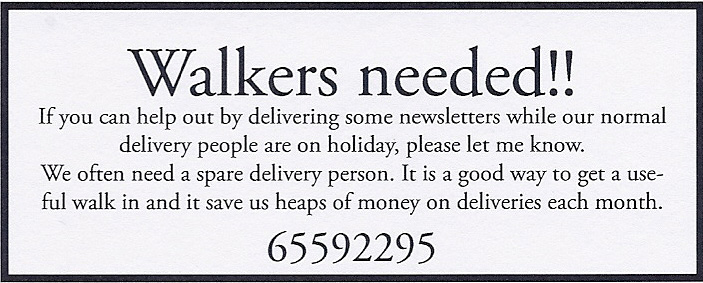 DANGEROUS LOCATION
BUS-STOP AT INTERSECTION
LAKES WAY & BLACK HEAD ROAD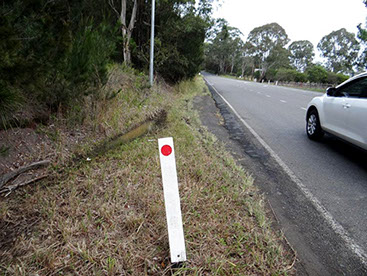 Is there anyone else in Hallidays Point who is concerned about the safety of this bus-stop?
Fairly recently we have moved into this beautiful area and enjoy living here. I regularly use the Countrylink bus service to Newcastle which is provided by Busways. It is a great service but I am very concerned about the location of the bus-stop.
To stop, the bus has to pull over in the merging lane for the cars coming from Blackhead Road. Passengers have to wait there, often with luggage, on the grassy soft edge of the road. There is no shelter or bus-stop sign and in wet weather it is impossible to stand there.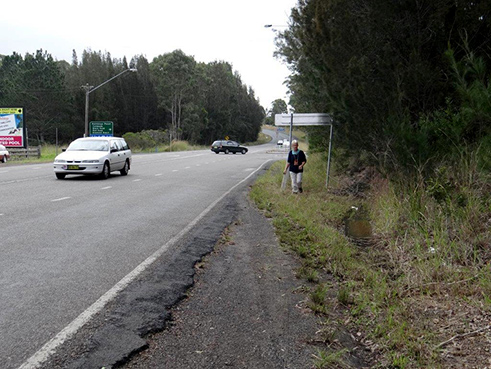 The bus drivers find it dangerous as well. I have attached a few photos to illustrate the situation. There is a much more suitable and safer bus-shelter about 1km further south down the Lakes Way. I am wondering how to go about getting a change to a safer bus-stop before there is a major accident. I am not sure whom to approach.
Has anyone tried to do anything about this before?
If you can help or have any suggestions, please call me on
0408 221 752
Sylvia Fermin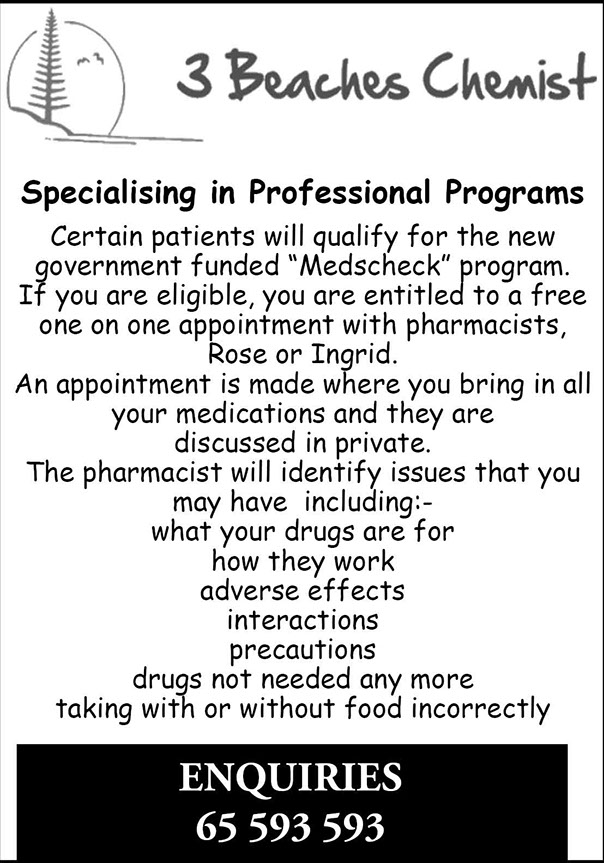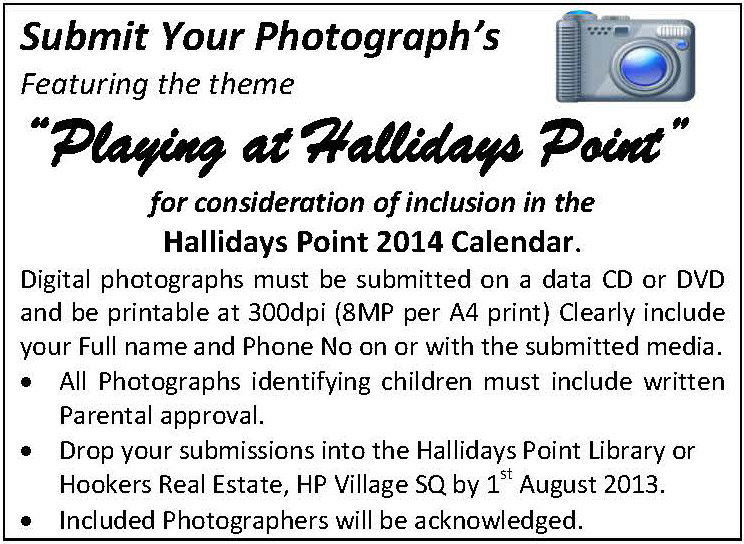 Colds and flu are caused by viral infections and are more common in winter.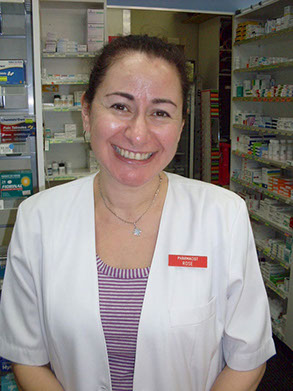 Rose Aboud - Pharmacist,
3 Beaches Chemist.
Fluid from the nose, mouth and airways contain the virus and spread easily by touch, coughing or sneezing. Medicines are available to help relieve the symptoms that are present, but are not a cure.
Decongestants: sometimes confused with antihistamines - help clear a blocked or runny nose.
Antihistamines: may help with sneezing and a runny nose.
3 types of nose sprays or drops: decongestants, saline and cortisones.
2 types of cough medicines: cough suppressants; for dry unproductive coughs vs cough expectorants and mucolytics; which help when there is phlegm or mucous on the chest.
Simple pain relievers (paracetamol or ibuprofen) can relieve aches, headache pain or fever.
Lozenges or medicated gargles may help sore throats.
What is suitable for one person may not be suitable for another because of age, existing medical conditions or other medications or allergies- so it is best to check with a doctor or pharmacist.
Other helpful hints:
Stay warm and get plenty of sleep and rest.
Drink plenty of fluids - this helps thin the mucus and prevent dehydration which can also make you feel sick.
Make use of steam from vaporizers, showers and inhalations like menthol and eucalyptus.
When sneezing use tissues or the "Dracula move" (sneeze into the elbow - your own elbow that is!)
Wash hands often or make use of hand sanitizers or surface sprays.
Eat healthy meals with seasonal produce - try that new recipe for chicken soup or vegetable soup.
Herbs and vitamins may be of assistance e.g.: garlic, Echinacea, zinc, and vitamin C.
Reduce stress - go for a walk, meditate, listen to music and have a laugh.
WHATS NEW ( OR OLD) NEWS:
Welcome to Kat (Katrina) who has made her way back, and 2 new happy faces Kim and Rhonda - between them there is a lot of experience. So if there are any products you would like to ask about or like them to stock for you please call in, or drop in just to wave & say hello.
Sadly Ingrid has decided to call it a day. I hear she has many other projects to keep her busy. We'll miss her and wish her all the best. (We will still hope to tempt her back now and again)
We continue to devote one day a month to individual sit down sessions of 10 minutes or more- come in or call for an appointment - its a great opportunity to ask all those questions about your health, medication, herbs and vitamins.
We have started a new programme using mobile phone messaging which sends you a reminder when your script is due - you simply text back if you would like us to dispense your medication and have it ready to pickup.
Finally I had heard that many lovely warm hearted people live here - and its true. Thank you for making me feel welcomed and I look forward to seeing you again.
Rose.
Tallwoods Pennant Golf Season Finishes on a High
​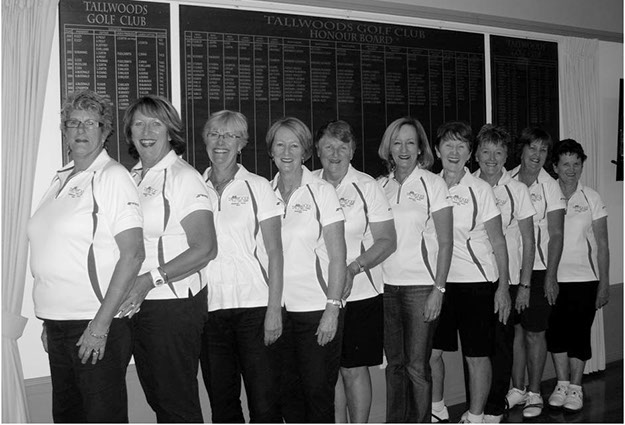 From left – Rozanne Ezzy, Gerri Pearson, Robyn Hellings ,Paula Livermore, Tricia Wootton,Ailsa Burns, Elizabeth,Thurtell, Lindy Prout, Sue Graham, Laurel TurnerThe Tallwoods Ladies pennant season concluded with both club teams having success. Team A captained by Sue Graham defeated Kew 6 -1 at Harrington Waters. Team B captained by Janice Hicks also defeated Kew 4.5 to 2.5 at Wingham.
During the season the teams have travelled to Wauchope, Port Macquarie, Taree, Kew and Tuncurry.
​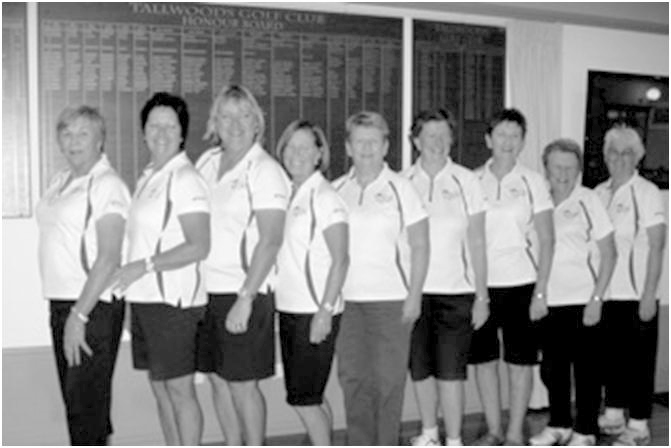 From left-Colleen Bosley, Janice Hicks, Kerri Lee Edwards, Patricia Nicol, Denise New,Jill Gillingham, Di Horsell, Nicki Taylor, Geraldine LivingstoneUnfortunately neither team won their section however both teams had several wins and a number of drawn games leaving them one or two places behind the ladder leaders, Foster/Tuncurry and Wauchope. At the pennant dinner held at The Sandtrap , the "Most Outstanding Player" awards were presented to Sue Graham (Team A) and Di Horsell (Team B).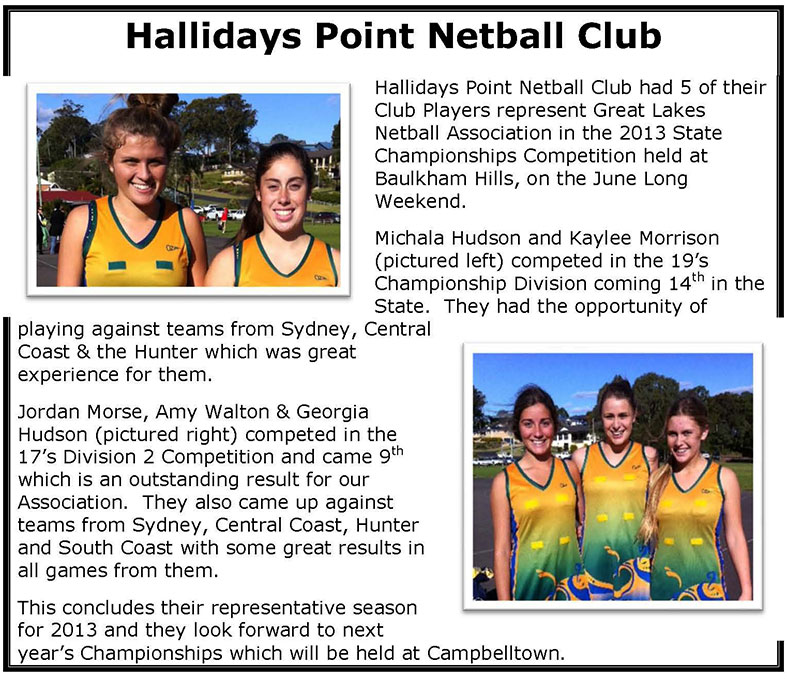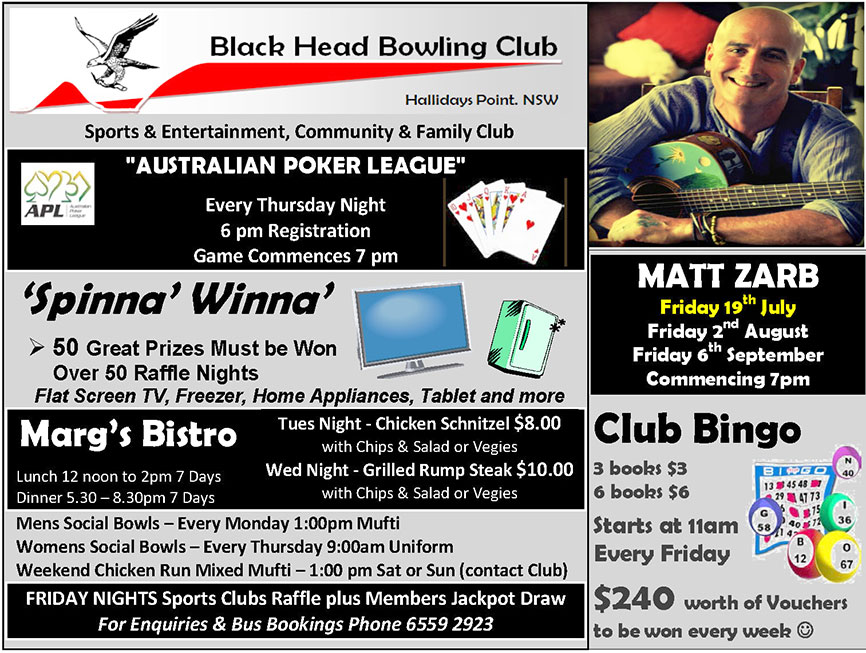 Black Head Surf Club Youth Host Community Disco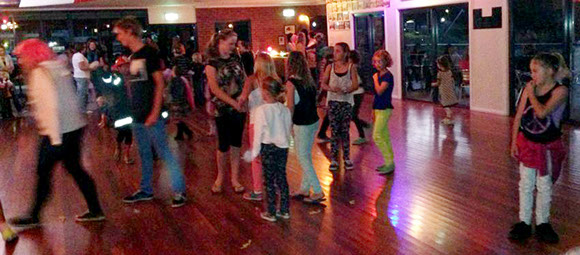 Black Head SLSC Youth (U13-U19) have been working hard to create a number of positive initiatives. Headed by an enthusiastic leadership group they wanted to provide a social event for local children (Kindy to Year 6). One recent Saturday night they arranged to run a Disco evening for these kids and did a great job in planning the event.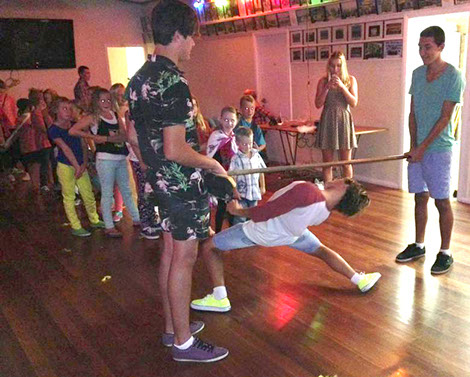 After several meetings they worked out what music they would have and how they would play it, how they would decorate the club house, what food or beverages they would serve and what other activities they wanted to have at the event. They also spent time working out the best way to market the event to parents and schools in the local Hallidays Point area and of course how much it would cost.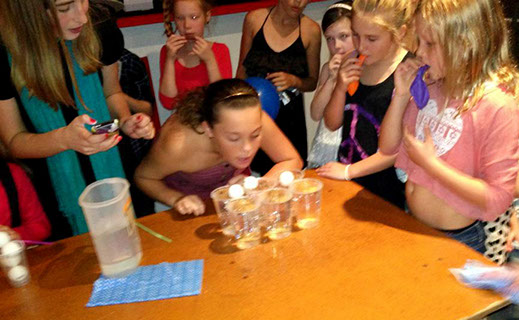 One clever idea was that they decided to also have a series of activities based upon the TV Game Show 'Minute to Win It'. Using the resources of Google and the internet our intrepid group then researched and did a test run to determine the best games to suit the children involved. On the night they ran five Minute to Win It game stations where the kids could play each game involved and win prizes if successful.
Another idea was to have a photo-booth where kids could dress as fantasy characters and have photos taken in dress up. Once again it took considerable initiative to work out how to get the dress up gear for the night.
The night was a great success with 50 plus children attending and all had a great time of dancing and fun. The older youth got into the spirit of the night and engaged the children as well as providing outstanding role models for the children to aspire to. The music and dancing was very much enjoyed and the Minute to Win It and Photo-Booth kept them all interested.
We must acknowledge the support of people who contributed towards the night in various forms; - LJ Hooker for Lights & Dress Up Gear (Natalie Carrier), Hallidays Point Primary School for Fog Machine (Mel Orchard), Bernadette Nicholson for Disc Ball & Bronny Crookston (Various Dress Ups)
Geoff Jackson
President
OUR NATURAL WORLD With Geraldine - On Tallwoods Ponds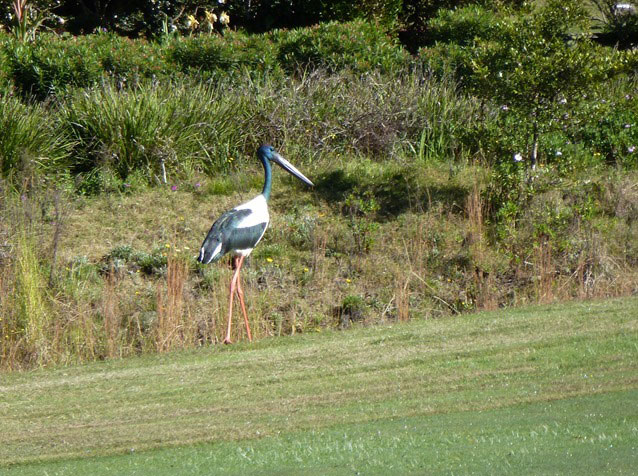 Tallwoods has a wonderful series of ponds dotting the estate. The most accessible are a big pond along the edge of the 8th hole and a three tiered pond system that runs from behind the golf car park all the way down to the main road. These ponds attract an amazing array of bird life.
On any day you will see the "usual suspects" – purple swamphens (flicking their little white tails), coots, dusky moorhens, little black cormorants, pied cormorants, grebes, wood ducks, pacific black ducks, blue bill ducks, etc.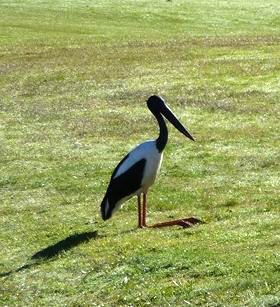 If you are lucky you might also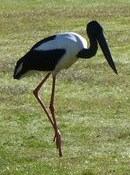 see black swans, white faced herons, ibis, egrets and a darter with a snake like neck drying his big wings. On one occasion I saw a line of six royal spoonbills shovelling through the mud with their big black bills. They looked just like a chorus line.
But the prize for the best sighting has to go to Joy and Laurie Curtin who spotted a Jabiru or black-necked stork. They alerted their neighbour Peter Stephenson who took these great photos.
If you haven't already walked the eastern or the western cart path loop at Tallwoods I recommend you put it on your to do list. The cart path runs between the back of the houses and the golf course. The eastern loop starts opposite the "veggie stall" and the western loop starts at the Bunker. Please make sure you keep away from the golf fairways.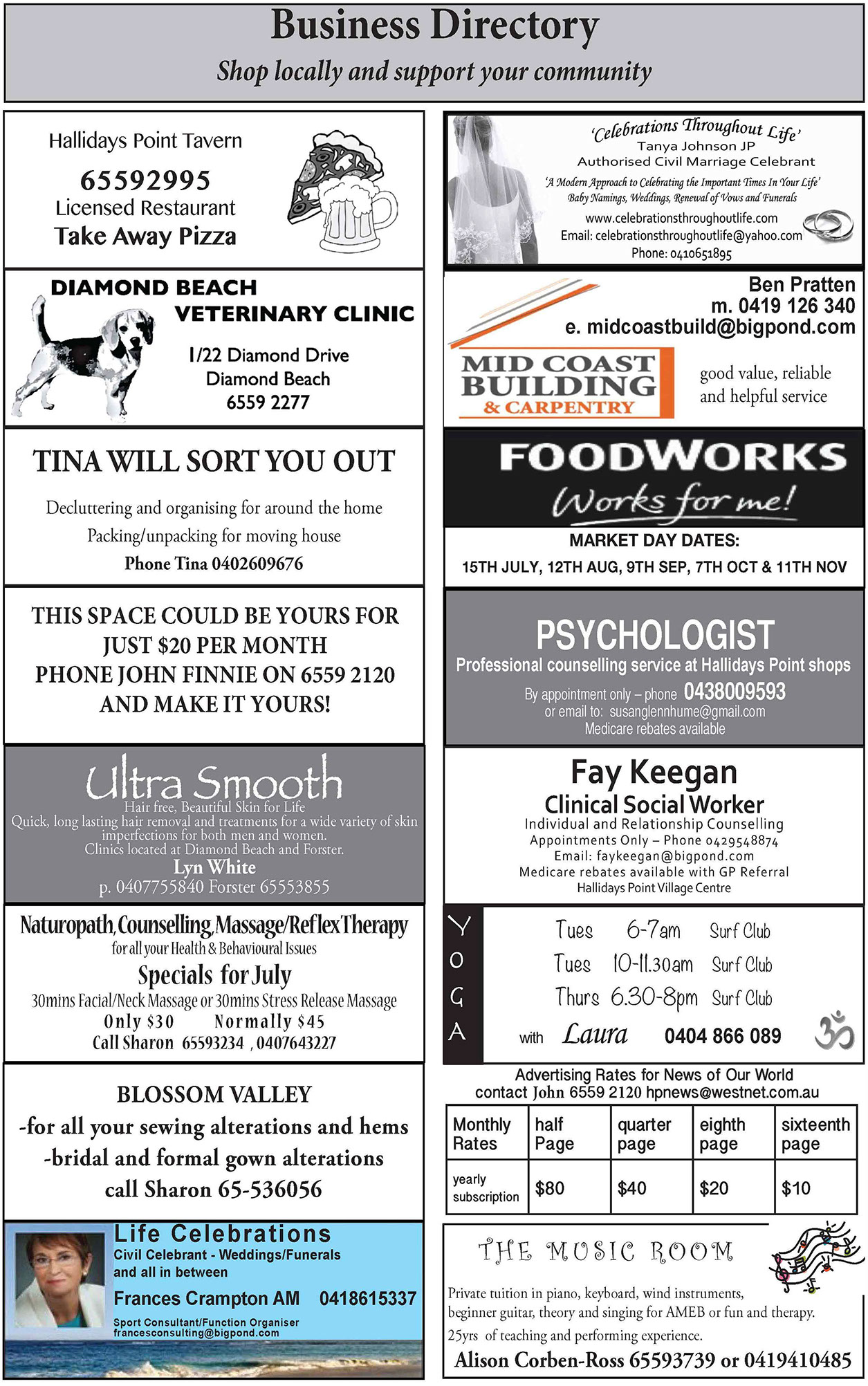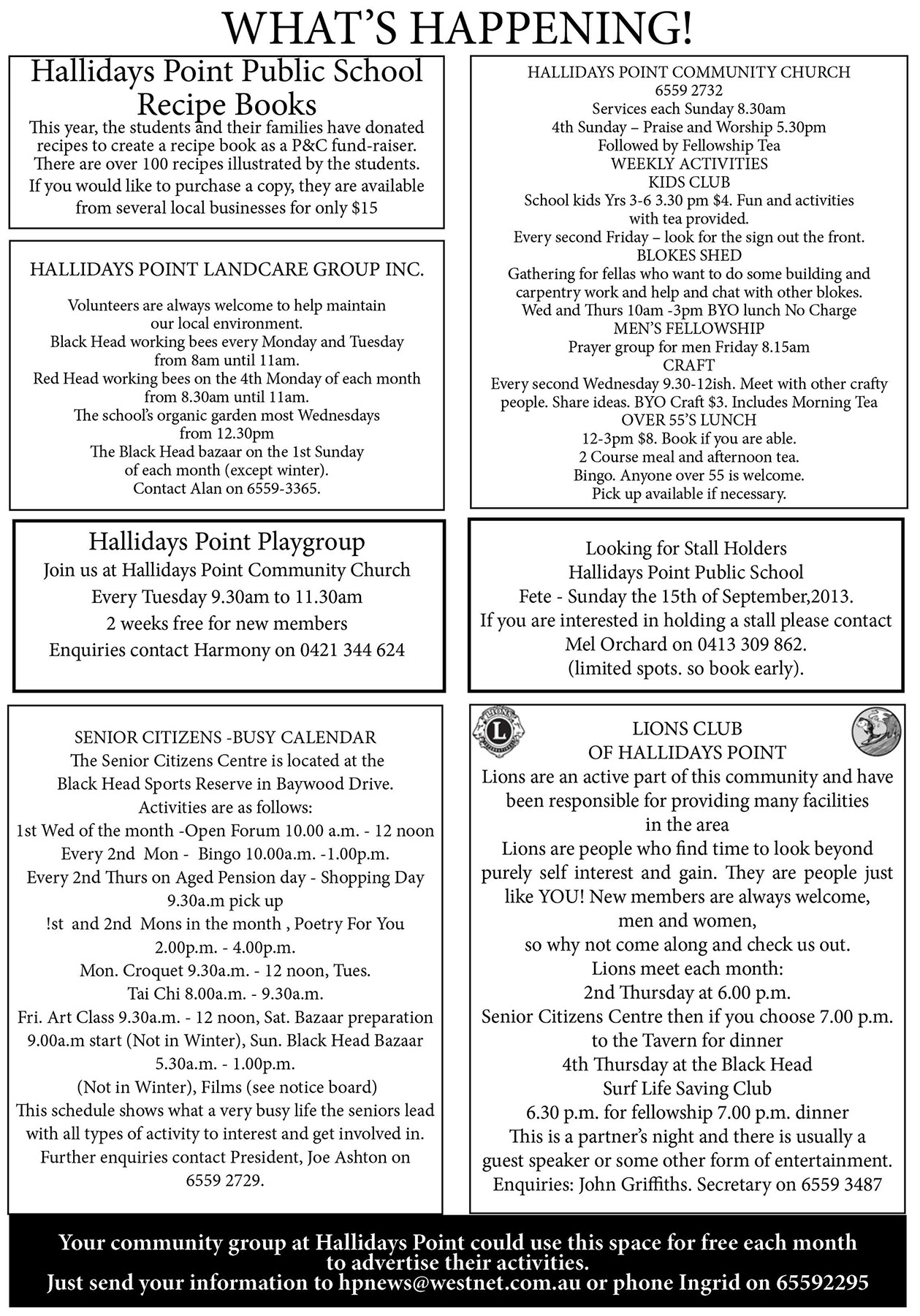 News from Hallidays Point Library
Author visit
Mark Tuesday 9th July in your diary for a great afternoon of entertaining.
Author Noelene Allen will be speaking at the Hallidays Point Library+ at 2pm. She's written a book called Ellen: a women of spirit.
Ellen: a woman of spirit is the extraordinary true story of a woman whose life journey is told in this long awaited book with sympathy, compassion and above all honesty. The reader will become immersed in the trials, tragedies and triumphs of this woman. The love of Ellen's life is taken from her at an early age; she is faced with the task of bringing up her children on her own. She will do anything for her children including spending time in gaol for protecting her teenage daughter from the unwanted advances of a police officer. No mother should experience the tragedies and losses that this woman endured throughout her long life; she outlived seven of her twelve children. The strength of the women of the Kelly family becomes clear as the reader shares many previously untold anecdotes of the life of the mother of Australia's most famous bushranger, Ned Kelly.
Bookings essential. Afternoon tea will be provided.
Wi-Fi Hotspot at Hallidays Point Library
Locals and visitors alike have been making tremendous use of our free Wi-Fi service. If you need internet access from your own mobile device, wireless is now available via the library!
Library Holiday Activities
Children's holiday activities are happening at the Hallidays Point Library+ during the July School Holidays. Brochures that advertise the activities are available at the Library. Bookings are essential for some activities. Pre-school Storytime (for 3-5 yr olds) on Fridays, and Wriggle Giggle Read (for 0-2 yr olds) on Wednesdays will still be held as usual.
Exhibition in the Library Gallery
In July see the "Wrap for Love" rugs that our weekly knitting group have produced during the last 12 months. If you are a knitter and have time to spare any Monday morning, you are very welcome to come along to the library at 10am for a fun morning of knitting and chatter.
See you soon at the Library
Open Mon – Fri 10am – 5pm, Sat 10am – 12 noon.
FISH 'N TIPS
WITH DENISE GREENAWAY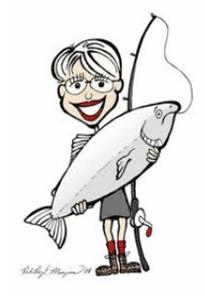 Fishing is a seasonal sport and if 'mother nature' is not 'playing the game' there is not much you can do about it. It was hoped that those big seas we had at the end of May – early June might have moved the sand around on the beaches to improve the fishing grounds. The sand moved, but did not produce any holes or gutters to fish in!!
So, what to do? Well it is a good time to check and refresh your fishing gear ready for when the fish do start biting. Clean up your rods and reels; stock up on your sinkers, swivels and hooks and even make them up into 'leaders' ready to snap on to your line when needed. We always have some 'leaders' made up with different rigs – i.e. line and hooks relevant to the fish species you are fishing for. Long shank hooks and medium strength line for flathead; short strong hooks and heavy line for bream and smaller hooks, light line and maybe some red tubing or bead for whiting. The Tailor will need a wire trace with large 5.0 gang hook for pilchards or a lure of choice – often the old "wonder wobbler" is all you need. I am spoilt as my 'captain' loves playing with the fishing gear and will usually make up rigs for me and he has this great idea of storing them on a piece of coolite – wind the line around and anchor the hook in the foam = no tangles and no hooks in fingers when you are in a hurry to rig up for the next fish!!! 'Cos you know when they are biting you have to be ready!!
If you are able to hitch a ride to sea, there have been good catches of Taraglan, ocean flathead, jewfish and the snapper are back and getting bigger – yummo!! The estuaries are producing good catches of flathead, bream and blackfish. That means, there should be plenty of quality fresh fish & prawns in the co-ops. to supplement the diet until our grounds improve. So, if you are new to fishing locally, don't feel bad about not catching much or anything……it's mother nature's fault!!! Happy fishing, keep trying!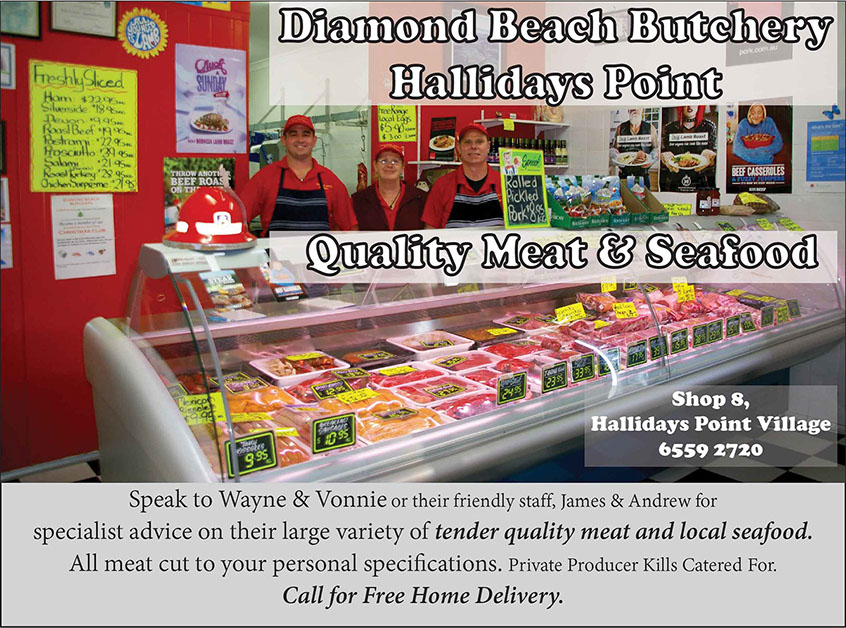 Hallidays Point Combined Probus Club Inc.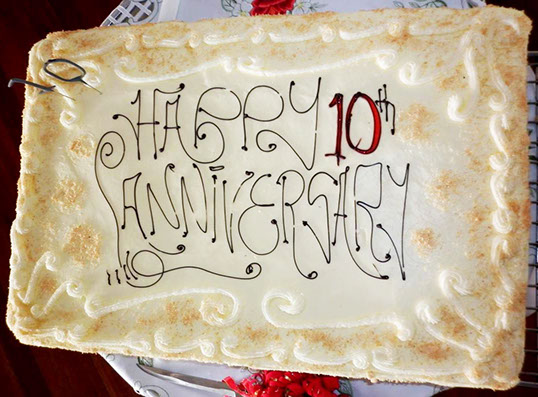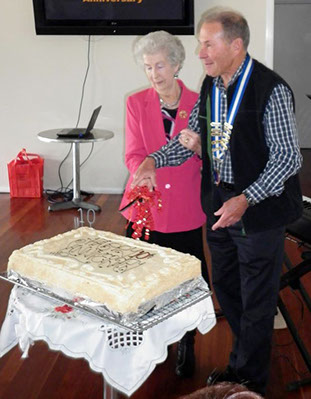 The June Meeting of Hallidays Point Combined Probus Club marked our 10th Birthday. At Black Head Surf Life Saving Club, overlooking the surf of Black Head Beach, Probians past and present joined in the celebrations together with representatives from Rotary and Taree City Council.
Excerpts from the inaugural meeting minutes were read by Bill Crocket, the inaugural secretary along with a few reminisces about the clubs formation. Many of the founding members present agreed with Bill's recollections but some were sure that Bill was not telling the whole story, perhaps to protect the innocent. Eileen McMullen, our founding President, and Wendy McKeough, a driving force in creating the club, rounded out the story of the birth of Hallidays Point Combined Probus. To most of us, particularly the newer members, it was enlightening and entertaining to hear how our great club was born.
Our birthday cake was cut by Inaugural President Eileen and Current President John Blacklock and enjoyed all present at morning tea.
The gathering concluded with the sounds of music provided by our own Probus Choir led, as always, by Anna Hamers and accompanied by Bryan Paech on the keyboard.
For more information on Probus please contact our Secretary, Ray Bell on 6559 2581
Jack McDonald/Bulletin Editor
News from the Senior Citizens Association
The trip to Nambucca Heads during the month proved very popular, with about 50 people on board the bus including people from Engadine, Probus, the Central Coast and Sydney, a lovely friendly group who all thoroughly enjoyed getting out and about around Nambucca.
Our Gentle Exercise class had to be cancelled unfortunately, but Seniors is about to host a "Heartmoves" Class on Thursdays. This will be run by Council, on a Grant, for a year. There are Heartmoves classes already operating in Forster and Taree. ":Heartmoves" is a low to moderate intensity physical activity programme (participants work at their own pace) for people with lifestyle risk factors, or with existing stable chronic conditions such as heart disease, diabetes or arthritis. The class will be held at the Seniors Hall, but open to everybody in the community, at a cost of $5.
Michelle Georgiou (Tel. 0432553714) will run the class, starting in July (date yet to be confirmed).
Hallidays Point's Got Talent
"Let's get Over it Fundraiser" for Janette Daniel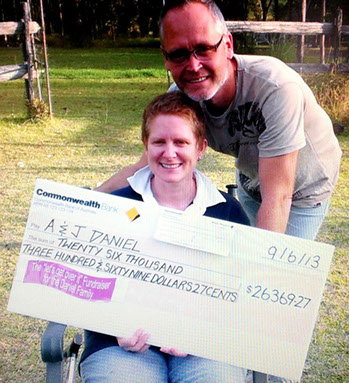 Janette Daniel married to Andrew with their 3 children, Emma, Hayden & Cooper have been active members within our Community for many years, Janette taking on many roles within the HPPS P&C for approx 16 years, also donating their time to the HP Soccer Club and BHSLSC.
Janette graduated after a 7year part time teaching degree in 2012 and commenced a career as a teacher at Taree High. In February 2013, Janette suffered an aneurysm and was rushed to John Hunter Hospital for emergency surgery. Since this tragedy Janette has improved with great determination along with the support of friends and family.
On May 25th local Community groups, businesses and individuals banded together to create an extraordinary event and display of community spirit by way of a Fundraiser to support the family in their time of need.
Collectively you may never know the profound effect that each of you have made on Janette's family. Your generosity in providing support and encouragement will never be forgotten.
To the many not for profit organisations, businesses and individuals alike, heartfelt thanks goes out to each of you.
A grand total of $26,369.27 was raised at this amazing event.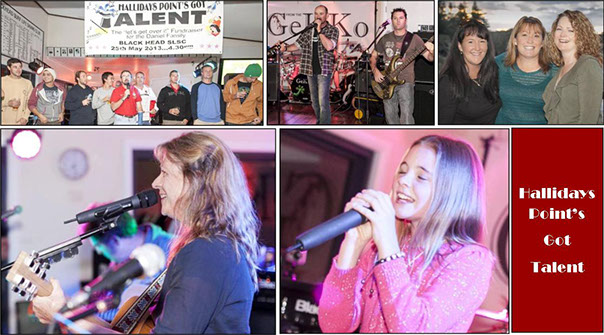 Congratulations to all who were a part of this incredible result and to those who participated and entertained us in The Talent Show along with the amazing band 'From the Gekko'.
Guests enjoyed a BBQ run by The Lions Club, Black Head SLSC did a tremendous job behind the bar, and homemade treats made by our local Hallidays Point Community Church sold with tea/coffee many thanks to Wendy Coleman and bless the wonderful ladies from the church.
Our Auction was a huge success with thanks to Peter Gardner and our raffle run by HP Fishing Club with the use of BH Bowling Club's equipment and donation of tickets. Thanks Jo Edwards for organising this.
Adult Winners for the Talent Quest-1st The Sitting Ducks,
2nd Dave Cavanough, 3rd Dip &Johnny.
Junior Winners- 1st Ebony Cavanough, 2nd Blayne Smith,
3rd Dylan Parsons.
SPONSORS:
•Hallidays Point Lions Club, •Black Head SLSC, •Don Emms Signs,
•Hallidays Point Soccer Club, •Hallidays Point Fishing Club,
•Hallidays Point Public School, •Hallidays Point Church, •Andrews Gardner RE,
•"From The Gekko", •"Picture This Perfect", •Look@me Photo-booth,
•Happy Hallidays Holiday Park, •Little Gem Boutique, •The Point Bakery Cafe,
•Waves@ Black Head, •Hallidays Point News Agency, •Diamond Beach Butchery,
•Cellarbrations Diamond Beach, •Achievers Swim Skool@Hallidays Point,
•Hallidays Point Health and Fitness, •XX Trophies Taree, •Benny's Working Bee,
•Flutterby the Fairy & Pirate Pete, •Marg's Bistro Black Head, •X Styles,
•Dolphin Marine Magic, •Black Head Bowling Club,
•Great Lakes Party and Packaging Supplies, •Kiddies Hut Diamond Beach,
•A Stones Throw, Forster Arts and Crafts, •PJ's Price Pirates, •Anytime Fitness,
•General Pest Treatment, •Forster Surf & Sport, •Lorellin Day Spa, Spotlight,
•Cullen Auto Group, •MVBooks, •PCYC, •Dominos Pizza, •Jungle Surf,
•The Point Tavern, •Australian Reptile Park, •Aircon MNC, •Tallwoods,
•Forster Beauty Therapy, •Aqualotus, •FoodWorks, •Crowdy Beach House,
•Alex White&Nick Jackson, •Bernie Porter, •RetraVi.sion Taree, •Darren Jack,
•Michael Hill, •Coasting Home, •Crowdy Bay Charters, •Gloria Jeans,
•Porpoise Pool Coffs Harbour, •Taree High School, •Missy Woo Hair Braids,
•Lisa Doltone, •Bush to Beach Holiday House, •Mal's Toy Shop, •Bob Coupe,
•Lena Basile, •Anita Newman, •Lyn Hudson, •Roger Jones, •Bruce & Lisa Dalton,
•Bruce White & Sharon Nobel, •Brock Crane, •Varry Niven -Fisher, •Tracey Kizilos,
•Mel Orchard, •Madeleine Leonard, •Carla Gillis, •Belinda Smith, •Rob and Pete.
My apologies if I have missed anyone. Once again many thanks to all who participated and continue to make this Community a wonderful place to live.
Deborah Schmitzer/Edstein.